Hair Restauration / Loss
Micrografting is a rapid, efficient, discrete, and technologically advanced hair replacement method that provides clean results without stitching. The micro-removal of hair bulbs is a revolutionary technique that allows for the immediate transplantation of these follicles to the area desired. Appropriate for men and women as it is perfectly discrete, this procedure is conducted under local anesthesia. This technique is adaptable to both partial and total hair loss with expected hair restoration in a matter of two or three months. Micro-removal also allows the patient to regularly compensate for lost hair immediately much like a treatment lotion that only begins working after three months. The thinning nature of the beginning of baldness is therefore successfully masked.
Definitions and indications
Definitions: minigrafting, micrografting, classic grafting
We define:
Micrografting : the graft contains 1 to 3 hairs.
Minigrafting : the graft contains 4 to 7 hairs.
Classic grafting : the graft contains 15 to 25 hairs.
Micrografting: principal indications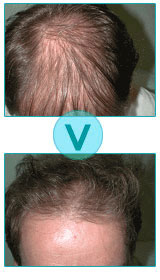 Generally speaking, micrografting is appropriate to the area above the scalp line. There are other criteria to consider in the operating indications.
Filling small alopecic areas: frontal gulf regions, receding hairline.
Filling more substantial areas: widespread frontal baldness, when skin grafting seems too difficult for the patient or is counter-indicated.
In addition to other surgical techniques, micrografting can touch up a final result, hide skin flap scars or large reductions sometimes visible in the anterior frontal-temporal area, or temper the difference between the zone of operation and the rest of the scalp.
The balding area is generally not a good indication. Other techniques provide better results.
Other indications: the micrografting technique can also be used for eyebrow reconstruction accomplished through the transplantation of down hair follicles located at the nape of the neck.